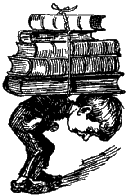 Do You Have
Any
Book Data
for BYRON?




Please E-mail it to me!




You can either send it as an ordinary text e-mail message, or use BYRON's Extract feature.


The BYRON software contains an Extract program which, when you run it, will collect all the data you've entered into your own BYRON since whatever date you choose. (The first time you run it, this date will automatically default to the date I made your BYRON.)

In your BYRON program, click on the "File" menu item (along the top of the screen). Select "Make Extract..." and follow the steps from there.

It will make a single file, which you can then simply e-mail to me.


I'll add your data to my own BYRON and, when I make an update, it will get passed onto all the other subscribers' BYRONs. It will also be included in the BYRONs I make for new customers.


And thank you so very much for any data you send me!